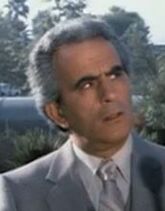 Played by: Stan Lachow
Occupation: businessman
First Appearance: Don't Mess Around With Jim
Jordan Heath was James J. Beck's business partner. As Beck neared the end of his life Heath betrayed him and had his docotrs deny him care.  Beck's friend; Marshall Dunn had Beck's personal physician; Dr. David Springfield, provide him care and secretly faked his death. Heath had Springfield steal Beck's will which left his entrie fortune to charity. Beck forced Ralph and Bill in to helping him stop the payoff at the Desert Air Hotel in Las Vegas, Nevada by threatening to expose their secret. They were unable to stop Heath from handing over $10 million for the will as winnings in a rigged game in the hotel's casino and Heath had Dunn kidnapped. Heath killed Springfield with a bomb in his car. Beck called and revealed himself to be alive. He offered to exchange a new will he had written in exchange for Dunn. At the exchange there was a shootout and one of Heath's men wounded Beck and Dunn was rescued. Heath tried to excape in a heilcopter but his path was cut off by the aliens' ship.
Community content is available under
CC-BY-SA
unless otherwise noted.