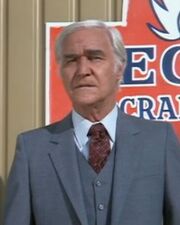 Played by: Byron Morrow
First appearence: Don't Mess Around With Jim
Marshall Dunn was a friend of James J. Beck. Together they encountered the aliens who gave Beck a suit that gave him powers. Dunn was to be Beck's partner as Bill was Ralph's but instead of using the suit to fight evil Beck used it to build his fortune. He ruined a competitor to the point of driving him to suicide. Dunn left in disgust.
Years later, as Beck was nearing the end of his life his business partner; Jordan Heath, betrayed him and his doctors deny him treatment. Dunn brought in Dr. David Springfield, who had been Beck's personal physician for years. They faked his death using the body of an indigent in his place. Dr. Springfield betrayed Beck and stole his will which left his fortune to charity.
Dunn hired men to kidnap Ralph and Bill and brought them to Beck who threaten to expose their secret unless they help him. As Ralph and Bill tried to stop the payoff for the will Dunn was captured. Beck offered to exchange a new will he had written for Dunn. Ralph and Bill saved Dunn at the exchange and the aliens cut off Heath's escape. Beck and Dunn went to the aliens to take responsiblity for their actions and they were beamed aboard the ship.
Community content is available under
CC-BY-SA
unless otherwise noted.